As I left most of you yesterday, my apartment was in desperate need of being cleaned. I worked ALL day, but it got done. I thought I would PROVE this with pictures....
After taking these pictures, I realized that I am in desperate need of a new camera. The camera I have, I bought as a open box item a couple of years ago, and it has served me well, but now its doing some weird things. First off, if you hit it in one particular spot on the bottom, it turns off and it takes FOREVER for it to turn back on. Second off, I noticed that it has some spots of the pictures are focused, while other parts of the same picture aren't. This isn't a background/foreground thing. This is just a camera that is on its last legs. Also, there are halos on everything in my pictures. I know I am going to replace my camera, I just haven't decided on WHAT in particular I want to buy. I would L-O-V-E a digital SRL (Single reflex lens), but I'm not made of money, so that is pretty much out of the picture. I would love a step up from just a basic point and shoot. As of right now, Carlos is under the impression, because it's still taking pictures, it's still a functioning camera..... BOO
Ok...As most of you noticed, I have A.D.D. I can't seem to keep on a topic for more than two sentences!! NOW BACK TO PICTURES!! Here they are!!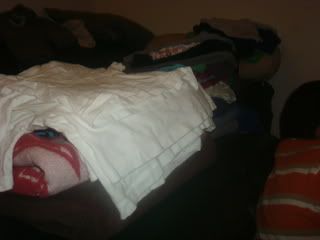 The Laundry was folded and put away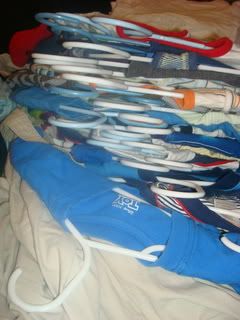 The kids clothes were put on hangers and hung up. I do this for a reason, and I will let you know a little bit later!!
As I was folding clothes, I have this feeling like someone is watching me. I'm not quite sure where this feeling is coming from until I see....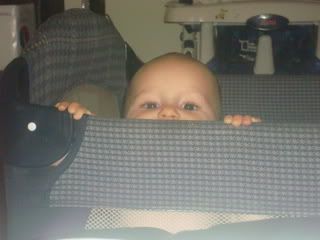 The "Fluff" (Cloth diapers and necessary items) were stuffed with liners and put away.
I don't have a picture for it, but the dishes were done and the trash was emptied (GASP!!!!)
Carlos and I have been noticing lately that a lot of our plates and glasses have been breaking lately. We had a glass, a bowl and a plate break last week. Well...as I was cleaning, I noticed this...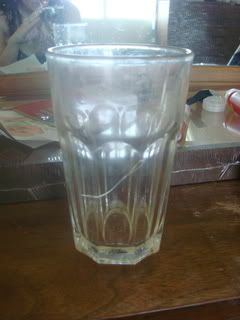 ANOTHER BROKEN GLASS
In my opinion, we have a poltergeist in our house. He is taking things and hiding them for MONTHS (example: my Rockband guitar dongle that I lost and had to have replaced, and the DAY that I sent the guitar back, it ends up in the middle of my living room), and then returning them when you least need it. I believe he is the one who is breaking all of our "heavy duty" plates and glasses. But that is just my crazy opinion.
During this time, Logan woke up from his nap and Connor went down for his nap. Its hard to sleep during this heat, so his nap didn't last too long. When he woke up, he was COVERED from head to toe in sweat.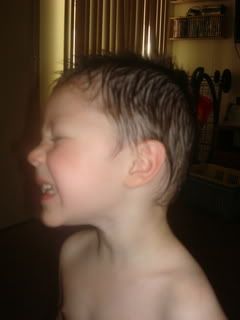 He isn't in pain. That is him saying "Cheese". As you can see, his hair is DRENCHED in sweat.
To make a little extra money for our family, I am a mystery shopper. I am usually a shopper for "Age Verification for the Sale of Alcohol". I'm just lucky to be pushing 25 and look like I'm about 16. It's a blessing and curse all at the same time. I love being a mystery shopper during the summer, because that is when most of the restaurants have shops. It's a great way for us to eat out on someone else's dime! So last night, our shop was Wahoo's fish tacos. One of my favorite places to eat, but not one of Carlos'.
On the way out of our house, we met up with Ellie, the little girl who lives two doors down from us. She is the CUTEST, SWEETEST little girl you would ever meet. Connor and Ellie play almost every night together. I guess Connor has a thing for older women, because Ellie s 5 and Connor is 3. Well when Connor saw Ellie in the parking garage, all hell broke loose. Doing what 3 year olds do, he wanted to play, but we had to go. This threw Connor over the edge. He THREW himself on the ground and started to scream and kick (what a drama queen!!). After about 5 minutes of that, I picked him up and threw him in the car. His hands were dirty from the ground of the parking garage, and when he wiped his tears away it looked like....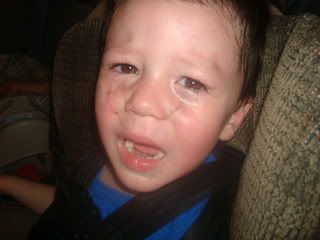 HIS MASCARA WAS RUNNING!!
Needless to say, this was pretty entertaining to me. I looked over at Logan while I was putting Connor in his car seat and he had the funniest look on his face....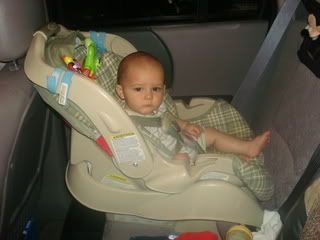 "What the heck is his problem?"
So when I told you that Carlos and I love to eat, we L-O-V-E to eat. When we got to the restaurant, I ordered a fish taco and a carne asada taco.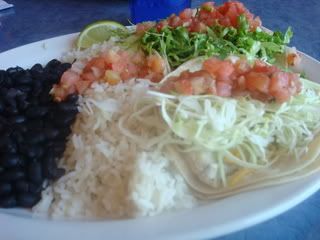 The food was ok? The fish taco was good, but the carne asada tasted like someone went a little heavy on the pepper.
Carlos got some sort of burrito to eat.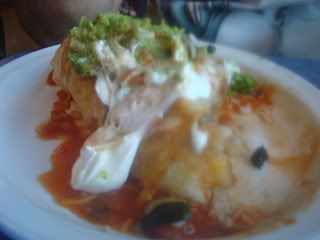 Not what he was expecting. He hated it and complained for most of the evening that his stomach hurt.
Connor and Logan got a quesdilla to share. Connor wasn't too thrilled with it...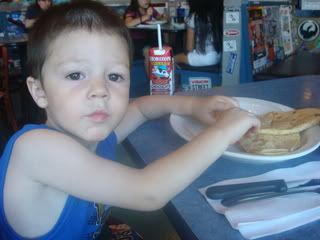 BUT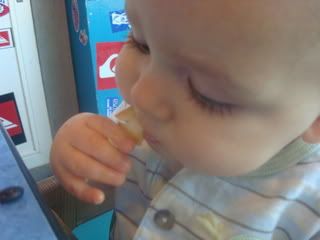 Logan, on the other hand, couldn't get enough of it.